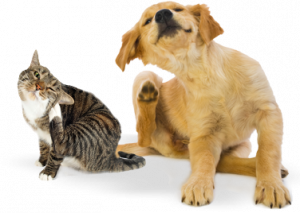 Parasite prevention and treatment are an important component of your pet health care plan. We recommend at annual examinations that you bring in a stool sample to check for internal parasites.
Your pet's monthly heartworm prevention includes regular deworming for internal and some external parasites.
Keep your pet happy & healthy by deworming your pet!
Internal parasites are intestinal parasites that can live inside your dog or cat – examples; roundworm, hookworms, tapeworms, etc.
External parasites are parasites that live on the outside of your cat or dog – examples; ticks, fleas & mites
We do recommend year round tick/flea prevention due to our variable weather even during the winter months. Temperatures 0 degrees and above we can still see ticks. Ask us about which tick/flea prevention is right for you dog or cat.
For more information please visit 'Worms & Germs Blog'