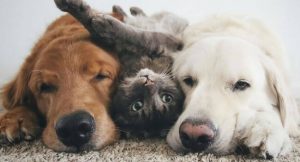 We at Stittsville Small Animal Clinic are proud to be one of the FIRST private veterinary clinics in the Ottawa area to offer affordable, customized plans that allow pet owners to do the very best for their pet's health, while budgeting cost.
Wellness Plans make yearly pet care more affordable by allowing clients to pay ALL their pets' routine veterinary care in equal, pre-budgeted MONTHLY INSTALLMENTS.
Plans are tailored to dogs and cats of all life stages, and include all the recommended vaccinations, preventive medications, and wellness testing for the year.    Rather than having to pay larger amounts in one or two visits, the total amount is broken up into more affordable monthly payments over 12 months.
These are all the wellness plans we are offering:
We are also offering an "Oral Health Care Plan" for ROUTINE DENTAL PROCEDURES both dogs & cats.
Signing up for your tailored plan is easy! Payment is via credit card on our Webstore.
Please contact our friendly and knowledgeable staff for more information and how to sign up.
Don't wait – start your BUDGET FRIENDLY WELLNESS PLANS today!