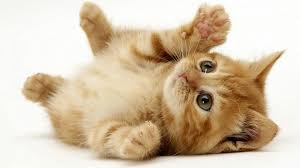 Considering getting a kitten?
Consult us before you obtain one …
Never had a kitten?
Will your cat(s) or dog(s) tolerate a new kitten?
How do you introduce a new pet into your home to your current pet(s)?
Where should you go to obtain a healthy kitten?
What breed should you select?
Not sure what to ask and look for when you are visiting the breeder or rescue organization?
Please come and talk to us if you need advice about this. A reputable cat breeder or rescue organisation should be pleased to permit their veterinarian to discuss relevant health information about their cats with us. There may be respiratory viral problems in their cattery/shelter that we need to be aware of. We are pleased to offer 50% off your kitten's first examination if you obtain your cat from 'Ottawa Humane Society'.
After you get your kitten..
Please schedule a post purchase examination and consultation. Bring along any paperwork that you may have related to your new kitten. We like to perform a nose to tail examination within a few days of your purchase to ensure you have a healthy kitten. We do schedule 1 hour appointments for your kitten's first examination to ensure we answer any and all questions/concerns you may have.
At that time we will discuss with you our kitten wellness program which is designed to offer your new kitten all the benefits of veterinary services available to him/her from birth to maturity. So your kitten gets off to a good start in life!
Included in this service is a series of examinations and vaccinations including core vaccines required at 8, 12 , 16 weeks – Panleukopenia (Distemper), and Flu (Herpes and Calicivirus). Rabies is the only vaccines that is required by law for all cats by 16 weeks of age for indoor and outdoor cats. If your cat is likely going to be outdoor, we do recommend the Leukemia vaccine.
In addition, your kitten will be tested for worms and be treated for the most common intestinal worm of kittens – roundworms. Roundworms can cause your kitten to vomit and / or experience diarrhea; however, it is possible for your kitten to have roundworms and not show any signs of harboring the worms. A microscopic fecal examination will allow us to evaluate the presence of these worms. The examination will also look for other types of worms that can affect your kitten. Remember parasites can be harmful; for example roundworms are zoonotic – infectious to people!
Nutrition is an important topic that we need to review. Obesity in our pets is now a major health issue and can lead to diabetes, heart disease and mobility issues that will shorten your pets lifespan – just like in people! Take a look at The Body Condition Score Chart for Cats to know what is a normal body score for your cat. Despite significant improvements and knowledge in feline urinary tract issues… this is still a frequent problem for our feline patients – we can advise you on how to prevent this painful problem from occurring. Dental diets have been clinically proven to reduce periodontal disease – another common problem that affects our feline patients through life.
Training? Behaviour problems are common in feline households – it is not just a dog problem. Yes – you can train cats! Best to start when they are young. We will review this topic with you – prevention is always easier. Visit our Cat Lovers Page for lots of great information and tips for your kitten.
Other health care issues that we will discuss include (but are not limited to) spaying and neutering, microchipping, dental care, parasite prevention and control, screening for infectious diseases (Feline Leukemia and Feline Immunodeficiency Virus "Feline Aids") and pet health insurance. We strongly advocate for pet insurance. Each kitten will be sent home with a pet insurance trial for 6 weeks if not already signed up. Please visit our Insurance page for more information.